How To Win Favor Of God Through Prayer And Remaining Faithful
December 9, 2022
0 Comments
---
Introduction
We live in a world that is constantly trying to pull us away from God. It seems like every day there is something new that pulls our focus from Him. Whether it's work, school, relationships, or even just the busyness of life, it can be difficult to keep our eyes on Jesus. But what if I told you that there is a way to win favor with God? A way to get His attention and Draw near to Him?
Prayer and remaining faithful are two things that we can do to win favor with God. In this blog post, we will explore how prayer and remaining faithful can help us get closer to God.
The Power of Prayer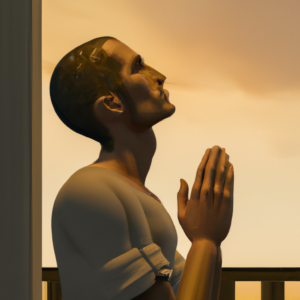 There is no magic formula to win God's favor through prayer, but remaining faithful and committed to your relationship with Him is key. When you pray, it is important to remember that you are talking to the creator of the universe who knows everything about you. Be honest and open with Him about your struggles, joys, and anything else on your heart.
Prayer is a powerful tool that can help you overcome challenges, find strength in difficult times, and experience the peace of God. It can also be used as a weapon against spiritual warfare. When you pray, you are tapping into a source of power that is greater than any earthly force.
If you are feeling lost or disconnected from God, start by simply talking to Him. Spend time each day focusing on your relationship with Him. Pray for guidance and strength, and be open to His will for your life. As you remain faithful and committed to your relationship with God, He will bless you abundantly.
The Importance of Faithfulness
The Bible tells us that without faith it is impossible to please God (Hebrews 11:6). In order to win the favor of God, we must remain faithful in our relationship with Him. This means being obedient to His Word and praying regularly.
It is also important to remain faithful in our relationships with others. When we are unfaithful, we are not only hurting ourselves, but also those around us. We need to be honest and true in our interactions with others, and show them the love of Christ.
How to Pray for God's Favor
When it comes to winning the favor of God, prayer is essential. But what does it mean to pray for God's favor?
First and foremost, it's important to understand that when we pray for God's favor, we are asking Him to bestow His blessings upon us. This could manifest in many different ways – from financial provision and guidance, to good health and protection from harm. Ultimately, we are asking God to work in our lives in such a way that we experience His goodness and love.
So how do we go about praying for God's favor? Here are a few tips:
1. Pray with humility. Remember that we are not entitled to anything from God; His favors are completely at His discretion. As you pray, come before Him with a humble and contrite heart, acknowledging your need for His grace and mercy.
2. Ask specifically. When you pray for God's favor, be specific about what you are asking for. The more specific you are, the easier it will be for God to answer your prayer according to His will.
3. Have faith. Believe that God is able and willing to bestow His favors upon you. Don't doubt His goodness or power; instead, remain faithful that He will work everything out for your good (Romans 8:28). "And we know that God causes all things to work together for good to those who love God, to those who are called according to His purpose." –New American Standard Version
What to Do When You Feel Discouraged?
When you feel discouraged, it is important to remember that you are not alone. Many people feel discouraged at times, and it is perfectly normal. The most important thing to do when you feel discouraged is to keep faith and continue to pray.
If you find yourself feeling down, try these tips:
1) Talk to God. Pour your heart out to Him and tell Him how you're feeling. He already knows how you feel, but it helps to vocalize it. Plus, it feels good to get everything off your chest!
2) Read His Word. The Bible is full of encouragement and hope. Spend some time reading it when you're feeling low and let the verses sink in.
3) Listen to worship music. Music has a way of lifting our spirits and reminding us of God's goodness. Put on some worship songs when you need a pick-me-up.
4) Pray for others. When we take our focus off of ourselves and our own problems, we can see how much God has blessed us. Spend some time praying for other people today and thank God for His many blessings in your life.
5) Help someone else. When we give of ourselves, we receive so much back in return! Find someone who could use a helping hand today and see how good it feels to serve others.
Conclusion
No matter what life throws our way, if we remain faithful and keep praying to God, we will always have a chance to win His favor. He is always listening and waiting for us to turn to Him in times of need. So don't give up hope, no matter how tough things might seem. Remember that with God on our side, anything is possible.